Viticulture-Winemaking Faculty
National Scientific Centre of Viticulture-Winemaking was established with the blessing of Catholicos-Patriarch of All Georgia on May 13, 2014 for the development of winemaking and viticulture. Caucasus International University represents one of the founders of the Centre.
Students of the faculty of Viticulture-Winemaking are given the opportunity to study all stages of Georgian viticulture-winemaking in accordance with the world established modern approaches which are called "wine from the ground to a table. In addition, they can master the main agro technological methods of vine care and grape cultivation, diseases and measures planned against them, as well as take care to gain ecologically clean product; students will be able to plan and manage vineyard, its processes, and control quality; they will become familiar with traditions and modern, innovative approaches established in Georgia and world viticulture-winemaking; students will study the technology of preparing unique Georgian qvevri wine, physio-chemical composition of alcoholic beverages of grape origin and methods of analysis provided by international standards used in the field; they will be able to manage quality of viticulture and winemaking, produce high-quality, competitive Georgian traditional wine that will be oriented on international standards and that can establish itself in international market; eventually, they will be able to master the skills of tasting.
Postgraduate Program in Georgian Viticulture-Winemaking was created in 2015, aiming at familiarizing students with the field of viticulture-winemaking, starting from the cultivation of vineyard to wine marketing. The undergraduate educational program was accredited in 2018, which will facilitate the preparation of viticulture-winemaking specialists with a strong theoretical and practical basis.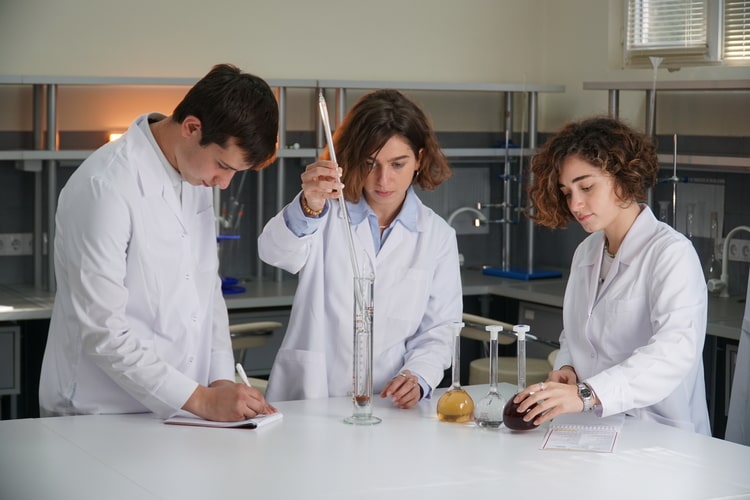 Practical component of Viticulture-Winemaking
In order to implement the practical component of undergraduate and Postgraduate programs within the framework of the university, a unique educational and scientific base has been prepared. It includes a winery equipped with Georgian Qvevri, a rich collection of more than 100 species of Georgian vine.
Georgian winery "Kolkhi", built with high-quality material and maintaining traditions, is a building with distinguished architecture. It is equipped with inventory and traditional industrial equipment – kvevris (large earthenware vessel), winepress which is characterized for Georgian viticulture-winemaking.
Micro-vinification Research Laboratory
Micro-vinification Research Laboratory and Laboratories of Wine-Chemistry, Viticulture, and Micro-Biology are operating at university, equipped with the latest academic-research technology and equipment. In addition, Wine Tasting Cabinet, which is designed according to the international standards, is available on the basis of the university. Students will be given the opportunity to assess wine, identify wine quality as well as diseases.
During the academic process, students are actively engaged in scientific researches, participate in university and other international scientific grant projects, scientific conferences. Furthermore, they prepare and study the physical-chemical and microbiological characteristics of the wine.
Alumni of undergraduate and postgraduate educational programs are given the opportunity to pursue their studies on Doctoral Programs in Agrarian Sciences, Business Administration or other directions at a higher education institution in Georgia or a foreign country which are oriented or preparing researchers unless there is a restriction imposed by some prerequisite.
Graduates of Undergraduate and Postgraduate Educational Programs in Georgian Viticulture and Winemaking, in accordance with the theoretical knowledge and practical skills developed, will be able to be employed in different institutions of viticulture and wine industries within their competence, such as:
Vine cultivation;
Viticulture farming;
Consultation Centres in the field of Agro development;
Bureaus of planting and projecting collection lands;
Agro-ecological, vine preservation services;
Various scale wineries and family farming;
Factories and companies producing wine, brandy, chacha, and other alcoholic beverages;
Wine Houses busy with commercial activities and sommelier service;
Wine tourism companies;
Accredited laboratories controlling the quality of grapes and alcoholic beverages;
State and public sectors focusing on the management of the filed.
---
---